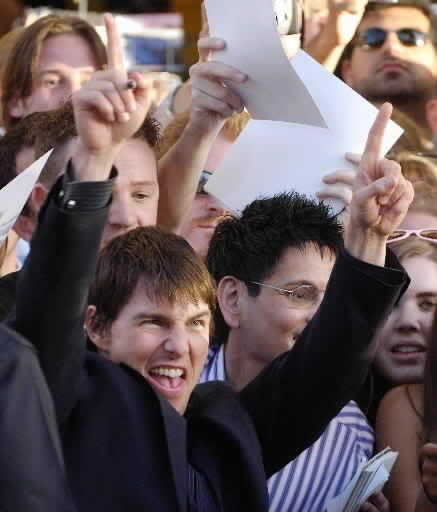 Woo hoo! Things are looking up, folks! Sumner Redstone is now officially my hero.

For those who haven't seen the news...

TMZ.com
Tom Cruise has just gotten the heave ho from Paramount Pictures.

Sumner Redstone, chief honcho at Viacom, the parent company of Paramount, has ended the 14-year relationship with Cruise's production company, Cruise/Wagner Productions. According to The Wall Street Journal, Redstone cited Cruise's controversial conduct and behavior over the last year as the reason for the split.
Redstone reportedly believed Cruise's antics -- including his now infamous appearances on "Oprah" and "Today" -- had a negative impact on the bottom line for "Mission Impossible III." Redstone said, "As much as we like him personally, we thought it was wrong to renew his deal." Redstone told The Wall Street Journal: "His recent conduct has not been acceptable to Paramount."

Cruise/Wagner produced a string of hits for Paramount, including "Top Gun," "Mission Impossible" and "Days of Thunder."


Reuters
Viacom Inc.'s Paramount Pictures unit is ending its 14-year relationship with Tom Cruise's film production company because of the actor's offscreen behavior, the company's chairman said in an interview with the Wall Street Journal.

Sumner Redstone, Viacom chairman, said the behavior of the star of the "Mission: Impossible" series and "Top Gun" was unacceptable to the company, according to the Wall Street Journal story e-mailed to reporters.

Cruise, one of Hollywood's biggest stars, has been known more recently for his antics on U.S. television talk shows, including jumping up and down on Oprah Winfrey's couch to declare his love for Katie Holmes and criticizing the use of antidepressant drugs.

"As much as we like him personally, we thought it was wrong to renew his deal," Redstone was quoted as saying in the Wall Street Journal. "His recent conduct has not been acceptable to Paramount."

Cruise's representatives and officials from Viacom and Paramount did not have any immediate comment on the report.

The absolute best part about this is that there is no room to spin this. It's not just bad for The Batshit Crazy Wee Maniac, it's the deathknell of his career. He ain't never coming back from this.

Exhibit A - Sumner Redstone, one the world's most important and most influential businessmen and the most important/influential man in American media made the statement himself. Not Brad Grey, not Paramount's PR department, not some underling. Nope, The Man himself did it, which only means that he wanted this release to be received with as high a profile as possible, for maximum effect.

Exhibit B - How many times have we heard that an actor and a director or an actor and a producer parted ways due to "creative differences" or because they were "moving in different directions"? Oh, far, far, far too many. It's like the "I was a worldclass athlete before a career-ending injury made me turn to acting" or the "we're only good friends, nothing more" Hollywood tried-and-true excuses. So did Mr. Redstone do that? Nope, he blamed Tommy Boy's personal behavior. In an industry that regularly tolerates and condones adultery, rampant drug use, blatant professional malfeasance, and pedophilia and all sorts of perversion, Wee Tommy got blasted for his proselytizing and irresponsible statements about psychiatry and psychology. Folks, cherish this moment, because it's as rare an occurrence as Haley's Comet.

Exhibit C - To quote one of the savviest people I know on the internet, "This sends a tremendous message to all the other studio's in town that MTP is a giant liability." No wonder CWP released a statement that they "decided to set up an independent operation financed by two top hedge funds." For any Big Alices reading, that means that the Tom Cruise stink is so strong that not only did Paramount dump his tiny ass to get as far from it as possible, but the other studios don't want any part of it, either. CWP saying that they're going the independent route is essentially the "You can't break up with ME! I'm breaking up with YOU FIRST" line. Yeah, we all believe that one (well, save for the Idiot 11, but they never count).

But you know what the most delicious irony in all of this is? Poor little Kool-Aid Katie just hitched her little red wagon to Tommy Boy's falling star. Despite the predictions and prognostications of the Biggest Alice, her career isn't going anywhere. Especially now since the gnome's career is totally in the dumper. She's already seen as a braindead freak, and now he has no influence left to help her.